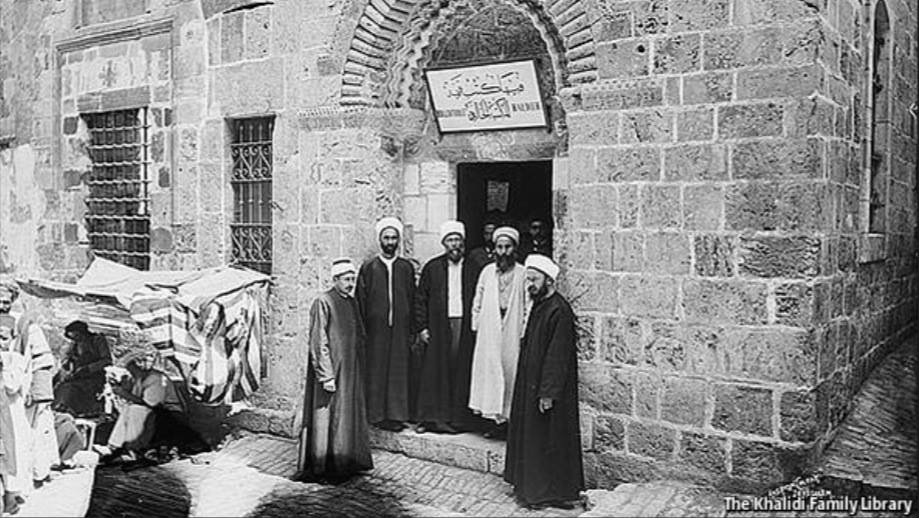 Opening of the Library 1900 From right Hajj Raghib al-Khalidi (d. 1952), Sheikh Taher al-Jaza'iri (from Damascus, d. 1920), Sheikh Musa Shafiq al-Khalidi (d. 1927), Sheikh Khalil al-Khalidi and Sheikh Mahmoud al-Habbal (From the American Colony Collection).
The Khalidi Library (Al Khalidiyya), established in Jerusalem in 1900 by Haj Raghib al Khalidi (d.1951), is the first Arab public library established by private initiative in Palestine. The Khalidiyya is located in the Old City of Jerusalem in Tariq Bab al Silsilah about 150 yards away from Bab al Silsilah, one of the main gates to al Haram al Sharif. The Khalidiyya contains the largest private collection of Arabic manuscripts in Palestine and one of the largest such collections in the world. The Khalidiyya MS holdings contain approximately 1200 titles, the oldest of which is about 1000 years old, while its printed collection, mostly of 19th century vintage, contain around 5,500 volumes. In addition there is a massive archival corpus of family papers going back to the early 18th Century.
The Khalidiyya is a complex of three buildings on both sides of Tariq Bal al Silsilah. In addition to the 13th century principal building, it has a 15th century Mamluk Annex (containing its printed holdings) and 18th - 19th Century Ottoman quarters for visiting scholars. All these buildings are part of the Khalidi family endowment (waqf dhurri) in the Old City. Its principal building is a 13th century Mamluk building which is the second oldest Mamluk building in Jerusalem. This building contains a prayer niche (mihrab) and the remains of Khawarizmian emir warriors who in the 12-13th Century participated in the recovery of Jerusalem from the Crusaders.
After 1967, the Khalidiyya, like so many other Arab/Muslim properties, was threatened with confiscation by the Israeli authorities and surrounding settlers. The prolonged and relentless attempts to take over the Khalidiyyah continued for many years but were strenuously resisted by local family members and other family members in the Diaspora.
In 1988, the Friends of the Khalidi Library (FKL) was incorporated under the chairmanship of Prof Walid Khalidi in the State of Massachusetts as a 501 ( c ) (3) tax-exempt educational foundation to rally support & solicit funds to face the threats to the Library in Jerusalem. In recent years the new Library Administrators (Asem, Raja and Khalil Khalidi) have continued to develop the Library facilities, services and collections, with support from a number of international donors.
Please click here to read